SmartFile -The Only Windows File Manager You Will Ever Need!
Current version: 1.21
(for Windows 95/98/ME/NT/2000/XP Operating Systems)
Free evaluation software available. Click here for details.
---
SmartFile is a full featured file manager intended to replace Windows Explorer and other Windows file management utilities. Using a two panel approach to file management, SmartFile ensures maximum functionality while minimizing the clutter often created by multiple overlapping windows. In addition, set up the software any way you like and unlike Windows Explorer, SmartFile will remember everything from the desired screen and printer font to panel size and even the last two folders you visited. The ease of use and operation of the SmartFile interface will leave you wondering how life could be so easy.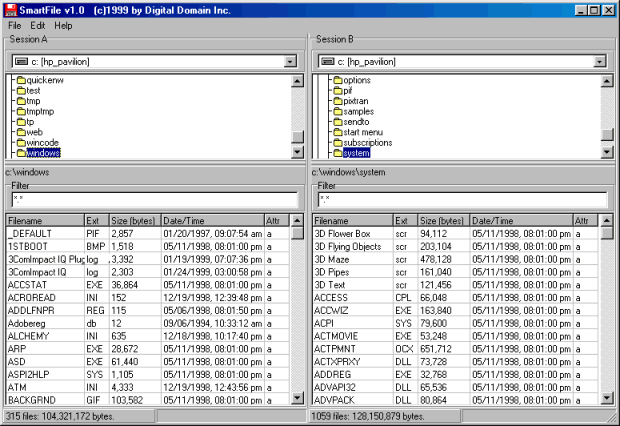 Everything on the above screen may be customized to your own taste. Three splitters are provided for enlarging all four of the major panels above. In addition, screen and printer fonts can be changed as well as each column of information in the file details panel. SmartFile remembers everything, from font and panel sizes to the two folders you last visited using SmartFile.
---
Why SmartFile?
SmartFile is a full featured 32 bit Windows file manager. In addition to offering a simple and efficient interface, SmartFile allows you to perform tasks not supported by most file managers. In addition to providing a more efficient means to do the "usual" things that most file managers can do (like copy, move, rename, etc.), SmartFile offers many features that allow you to actually begin managing your files instead of just manually moving them around. What makes SmartFile different than other file managers? Features like:
One step floppy copy.
Full control over file deletion mode. You can place deleted files in the recycle bin, delete them without using the recycle bin to eliminate time wasted purging files, or wipe and delete the files for full security of deleted information.
Update of folders by copying newer files (great for backups).
Selection and copying of files that contain text strings.
Global or folder based "whereis" function allows you to search entire drives for:

Files that match a certain specification (*.ini. *.dll, etc)
Files that have dates within any specified date range.
Files that are are a specified size (lower and upper limit)

Open files via the Windows associated viewer by double clicking. If no viewer is associated with the file type, the SmartFile text/binary file viewer will load it for viewing anyway!
Print directory information for selected files in any folder.
Open and print file contents for selected files in any folder.
Fully customizeable interface with splitters, screen font, printer font, etc. All setting are saved, including the last two folders that you visited. SmartFile remembers EVERYTHING, even the selected width of scrolling columns for filename, extension, size, date and attributes!
Comprehensive Windows help interface.
And... much more!
The SmartFile Windows help file is now online! Click here to view the entire Windows help file included with Smartfile.
---
You can download a self-extracting, self installing free demo by clicking here. The demo will be fully operational for 14 days from the date initially installed and will be disabled thereafter. To obtain an unlock code which will unlock your demo version, you must register the software by following the steps below (also outlined in the demo software). Note: you can still view the registration info even if the software has expired. You can get a quick start using the software by clicking "Help" and "General Help".
---
Price to register the demo: $19.00

Payment may be made via one of the following methods:
---
Registration will remove all lead-in registration reminders, remove the expiration, and will entitle you to free upgrades for one year!
Installation Instructions:
(1) Simply click on the link below and save the file to an empty folder. Once you have downloaded the file to your PC, you can execute the file (if your browser does not do this automatically) by clicking "Start", "Run", "Browse" and locating the the folder where you saved the downloaded file. After selecting the file, click "Ok" to execute.
(2) After performing (1) above, the file "setup.exe" will be extracted in the same folder. You can then execute this file to run the setup program which will walk you through the installation.
Download SmartFile v1.21 (~1 MB)
---
ddisoftware, Inc. has a reputation for listening to users and quickly incorporating requested features. Your purchase guarantees you free upgrades for a period of one year from the date of registration (date that your unlock code is emailed to you). After the one year free upgrade period has expired, you may purchase any new version for half price.
---