v2015.102
---
TT Dyno
Dyno software that can turn data logs from automotive tuning tools into real dyno graphs!
If you have a handheld tuning tool or ECM/PCM data logger,
you need this software to be able to truly evaluate your mods!
---

Dyno your vehicle with your handheld tuner/data logger and TT Dyno software
Real engine dynamometer: graphs torque/hp for the entire RPM band
Uses real measurements: no estimates like 1/4 mi or 0-60 HP calculators!
Less than half the cost of a single session on a chassis dyno
Not prone to calibration/maintenance errors like a chassis dyno
Super accurate and consistent dyno graphs and time-to-speed graphs
Easily dyno any vehicle including 4WD and AWD vehicles
RPM and vehicle speed are the only required parameters for logging
Automatically finds multiple runs in a single data log
Automatic parsing and parameter detection for most popular devices
Takes into account vehicle weight, weather, wind resistance, and more
Display knock retard on each dyno graph for tuning purposes
Compare multiple graphs and export dyno sheet data and graphs
Free updates for 6 months after initial purchase
7 day trial available: test compatibility with your own data logs
v2015.100 released Sep 29, 2014 adds:
Drive ratio compensation: get comparable graphs in different gears!
"Mouse over" data reader: just roll your mouse over the graph for numeric data
Now with more accurate graph smoothing
Get TT Dyno now for only $29.95!
Fully compatible with Windows 7, Vista, XP, 2000, NT, ME, 98, 95
Use Fusion or Parallels to run on a Mac. Also runs under Linux/Wine.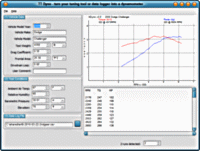 From the makers of the popular
Home Dyno and Road Dyno
Use data logs from your handheld tuning
device to get real dyno graphs in an instant!
Already own a handheld tuner or data logger?
Compare:
3 pulls on a chassis dyno: $75 (minimum)
unlimited pulls with TT Dyno: $29.95